David W. Galenson is Professor of Economics at the University of Chicago; Academic Director of the Center for Creativity Economics at the Universidad del CEMA, Buenos Aires; and a Research Associate of the National Bureau of Economic Research. He is also Contributing Editor to The Art Economist magazine and a blogger for the Huffington Post. He has been a visiting professor at the California Institute of Technology, Massachusetts Institute of Technology, the University of Texas at Austin, the École des Hautes Études en Sciences Sociales in Paris, and the American University of Paris.
For more information on David Galenson visit
The University of Chicago's Experts Guide.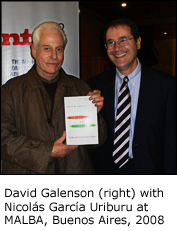 Contact:
galenson@uchicago.edu
Blog:
David Galenson @
The Huffington Post